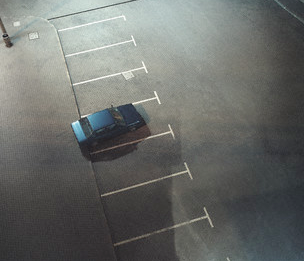 For many years, I had wanted to attend an evening Hot Air Balloon Glow at a very
large park in our city.  Since we have a 15 yo exchange student this year, we
finally went.  It was very crowded and I had to park over a mile from the venue,
since this event is really popular and they also use party table linen for decorations
in these events.  As we walked along, our student took pictures of some fountains
and we basically just followed the crowd.  My 9 and 6 year old daughters were excited
and distracted me from checking the name of the street closely.
When the event was over, it was very dark and as we walked along, the crowds began
to thin.  We determined we had made a wrong turn and switched directions.  At one
point my 6 year old said, "Down there!"   Since she could not possibly know, we
trudged along and asked some other people we saw.  We showed them the picture of the
fountains and they sent us a different way.   It was getting later and later and it
was obvious we walked in circles.  I was scared but trying not to show it.  We were
all getting tired.  Finally, after over an hour, we found the correct fountain and
turned the corner to see our lone car under the streetlights. 
"I TOLD YOU!" yelled my six year old daughter!   We laughed and it broke the tension.  Ironically, had we
listened to the little one, we would have been on the street where the car was
parked!